With all the different types of airbrush makeup out there, it's tough to know which to use. Graftobian produces two different types of airbrush makeup, GlamAire™ and F/X Aire™.
We get asked all the time, "So, which is better?" The answer depends on the type of usage. Let's take a look at both types.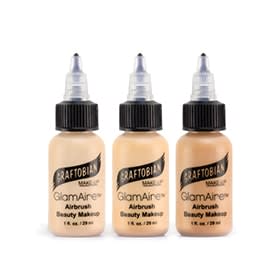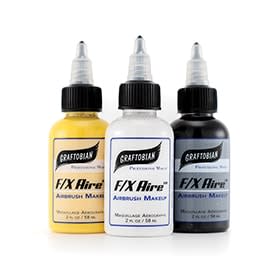 GlamAire™ is the quintessential beauty airbrush makeup. The water-based formula works on all skin types and is even gentle enough for the most sensitive of skin.
All 58 true-to-life skin shades and six blush shades are divided into warm, cool and neutral undertones for easy matching. The colors blend with ease to create any needed intermediate colors. Each GlamAire™ shade has a matching Glamour Creme™ foundation shade with the exact same name. This unique feature lets a makeup artist move quickly between mediums. Finally, when it comes to being in front of the camera, GlamAire™ performs flawlessly. Even under the scrutiny of an Ultra HD camera, this ultra-lightweight formula appears as nothing but natural skin.
With a color range well beyond skin tones, F/X Aire™ can handle virtually any application. This airbrush makeup is the best friend of body painters, cosplayers, haunters or any makeup artist that specializes in character creation.
The bright, beautiful colors cover in very light coats and the near-instant drying time allows for building easy color depth and opacity. Better yet, the microfine, triple-milled pigments won't clog airbrush guns.
Best of all, the water/alcohol formula lets your artwork last all day, no matter what gets thrown at it. This includes large amounts of sweat, hot lights, rain storms, or practically anything else you can think of.